Blodge is an student of Scare school who is basically a gooey glob of slime with eyes and a mouth. He is like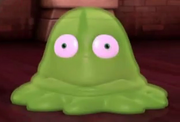 Casper because he can slime through things.
Gender:male
Species:blob
Age:unknown
Friends:Casper,Mantha,Ra.
Enemies:Thatch
Family:unknown
Elasticity
Skin Color Manipulation
You see him as a bin
Ad blocker interference detected!
Wikia is a free-to-use site that makes money from advertising. We have a modified experience for viewers using ad blockers

Wikia is not accessible if you've made further modifications. Remove the custom ad blocker rule(s) and the page will load as expected.