Pumpkinhead
Biographical Information
Aliases

PK (by Casper)

Physical Description
Gender

Male

Species

Scarecrow

Personal Information
Occupation

Student

Allies

Veggie Man (Pumpkinpal only)

Enemies
A student with a jack-o-lantern for a head, usually a background character. Like Mantha, his head sometimes falls off. He can also breathe fire,but to a lesser extent than Prof. Thirddegree Burns.
Appearance
Pumpkinhead (hence his name) has a head of a pumpkin, kind of like a jack-o-lantern. He wore a torn green plaid shirt with rope tied around his waist and olive green worn-out pants. His body is entirely made of straws like a scarecrow.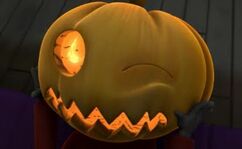 Personality
Despite that he is a background character, Pumpkinhead shows that he is sometimes timid at first but then tries to be brave like in episode Ghost Bust a Move in the beginning, he was chosen to scare Kibosh.
Relationships
Friends/Allies
Veggie Man (Pumpkinpal only)
In Pumpkinpal, Pumpkinhead made a secret friend, who is made of of vegetables, named Veggie Man (who is oddly the same creature as appeared in Frankenleftovers) to prove Thatch that he is not a loner until the end where Veggie Man nearly terrorized the students including Thatch in the Forbidden Forest (formerly Scary Woods).
In Pumpkinpal, Pumpkinhead believes that Thatch was right about him being lonely, but Casper confronts him and helps him to make Veggie Man brought to life. Before that episode, Pumpkinhead was seen briefly with Casper and Casper's gang
Ad blocker interference detected!
Wikia is a free-to-use site that makes money from advertising. We have a modified experience for viewers using ad blockers

Wikia is not accessible if you've made further modifications. Remove the custom ad blocker rule(s) and the page will load as expected.